Reliable Maintenance Management Software.
Powerful tools. Effortless Onboarding.

Make your facility management job easy. Get a demo of our CMMS and find out how easy it is to switch.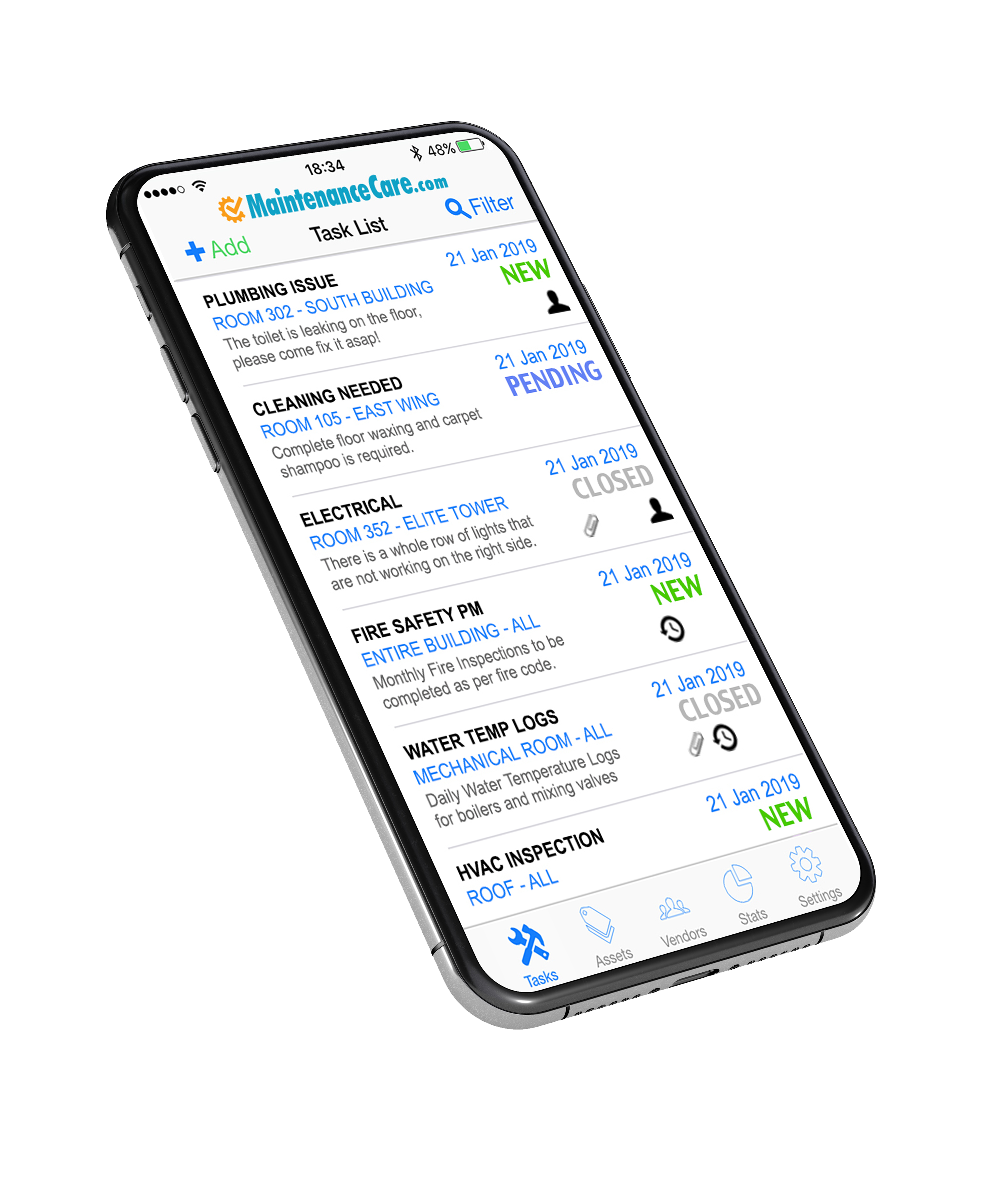 Preventative Maintenance
With proper preventative maintenance scheduling, you'll find your whole maintenance team is more organized and efficient.
Digital Work Orders
Never lose a work order, or any information around a task, again. Track everything digitally in a custom-built system that lets you assign new tasks effortlessly.
CMMS for Mobile Devices
Whether you're in the field or back in the office, Maintenance Care works on smartphones, tablets, and desktop for one unified experience.
Reporting Tools
Stay informed about what work is being done in your facility, when it was done, and what the trends are with advanced reporting that's as easy as clicking a few buttons.
Asset Tracking
Downtime due to unexpected equipment failure leads to both wasted time and increased expenses. Keep track of your equipment's status and save.
Document Storage
Keep everything in one place so you don't have to go searching through paper files. Reports, schematics, whatever it is: keep it in Maintenance Care.
Why CMMS?
Too many organizations still track their maintenance on paper or on spreadsheets, wasting valuable time on administrative tasks, and information inevitably goes missing.
Get your system on a CMMS like Maintenance Care, on the other hand? You can digitally manage all your maintenance needs through one app that any maintenance staff can access anywhere.
Save time and money by assigning work orders, running reports, and staying on top of your maintenance demands — rather than just reacting. Learn everything you need in a free demo with an expert!
Great software program
I have been working with the MC software program for many years now, it is simple to use, it keeps me informed of all activities in my building.Any preventive work that is needed, let it be in house or contracted out, is never missed, with the easy schedule set up. With many departments within my operation, the MC software, brings great communication, and keeps all involved, informed. I have worked with many other types of Maintenance software, and this one is by far my system of choice. The support from Maintenance Care tech team, is fabulous, real people, with answers. It is a cost saving tool also, one thing I come to discover, is the more you put in to it, in way of set up and utilizing all function, it deliverers great results in trend and reports.
Leon Deluca
Maintenance Chief, Coast Harbourside Hotel
Request a Live Demo Today
Ready to get started getting your maintenance management more organized and efficient? You've come to the right place! Your demo is just few quick facts about yourself away: