Facilities that track and manage their parts and inventory effectively see a huge increase in efficiency of the maintenance department, which typically leads to significant savings on inventory costs and an improved ROI. With parts and inventory management software, you can expect a major decrease in the amount of work delays you experience, because the parts you need are always on hand! Plus, you'll see less equipment downtime (especially unexpected shutdowns) and less costly, unnecessary stock overflow. With all of these benefits considered, it's clear a good parts and inventory management system will allow you to not only improve your maintenance department's efficiency, but also to increase your Return on Investment (ROI).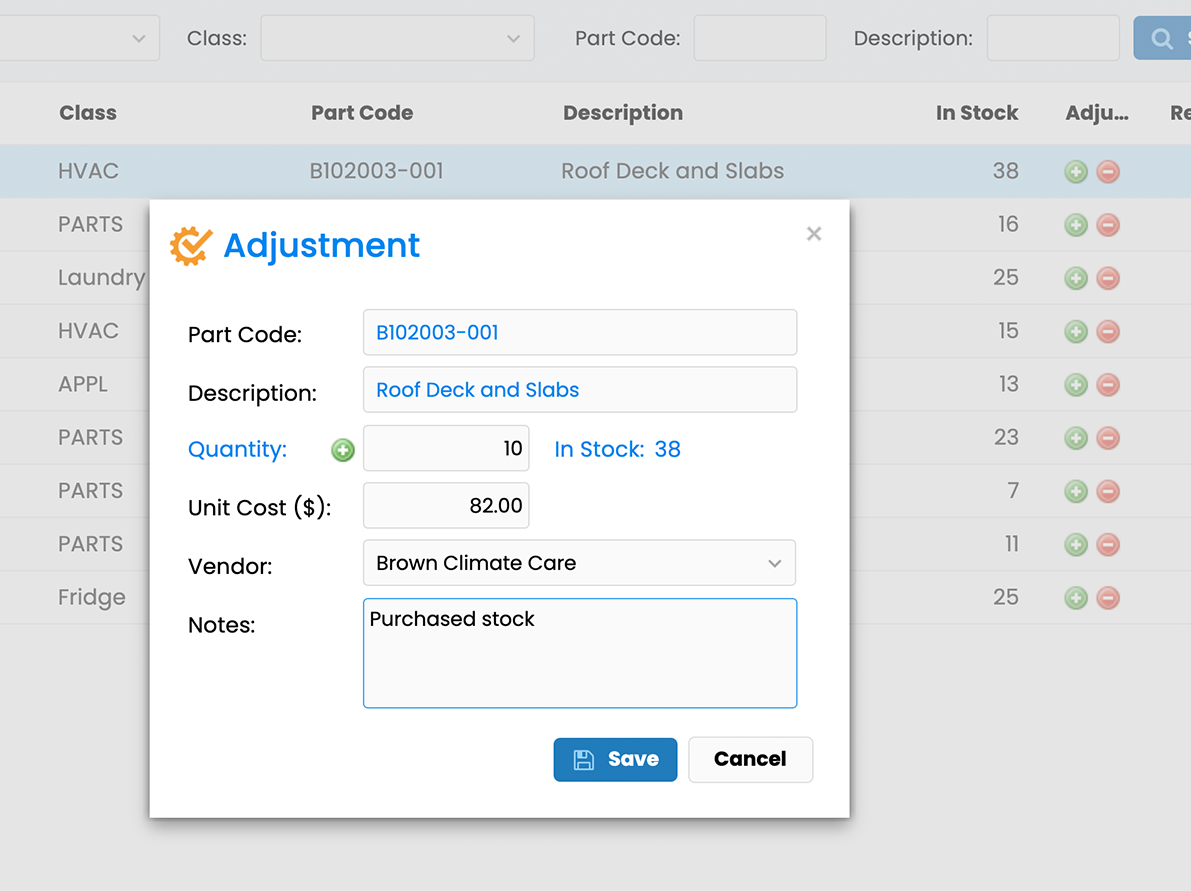 What Is It
Using our Parts and Inventory Management System, you can keep information on all of your spare parts in one convenient, easily accessible location. Maintain records on your entire inventory so your maintenance team will always know exactly what stock you have and how much of it you have. Inventory accuracy has never been easier.
To The Point
Easy tracking of all your stock items to reduce downtime. Track parts efficiently and streamline parts management.
Usage
You will use this feature every day.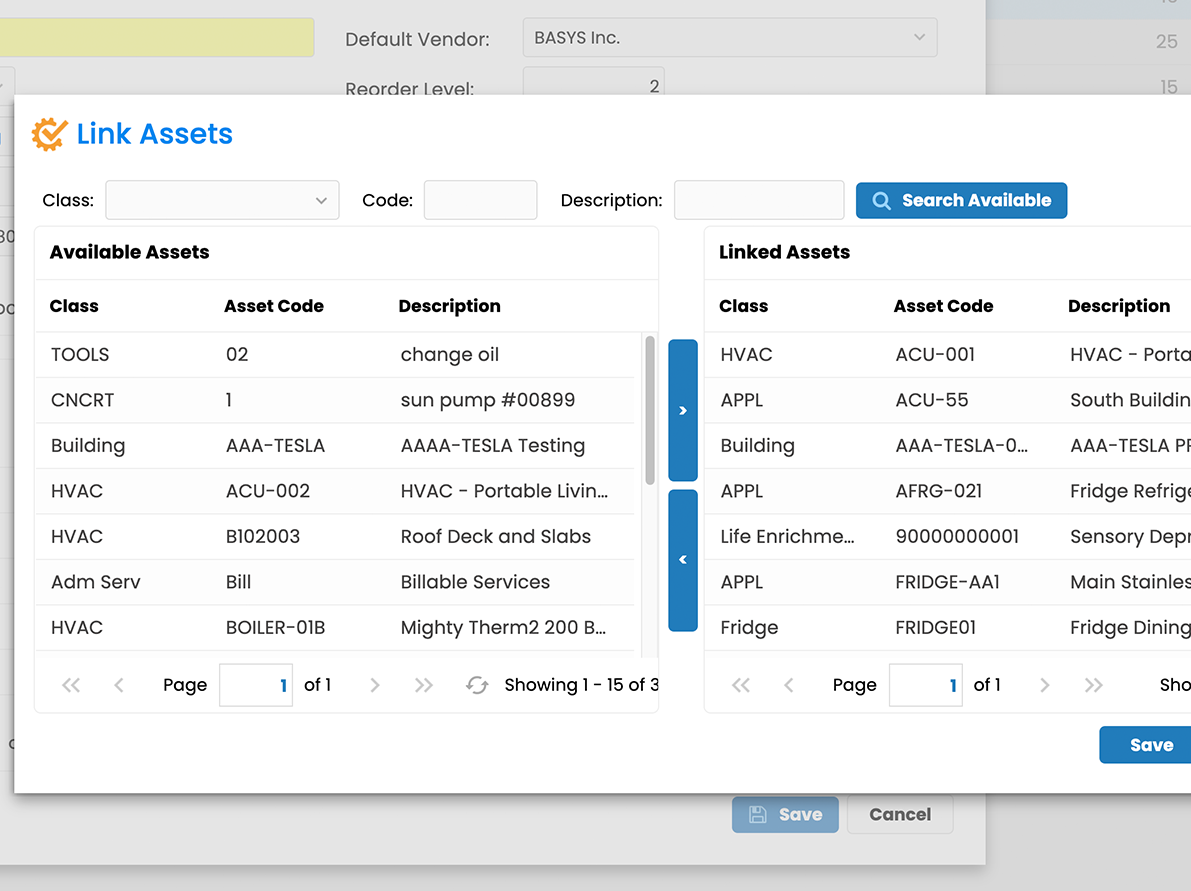 What Is It
Link any part to any assets to maintain spare inventory where you need it the most. Your maintenance department can quickly see the parts associated with each asset and how many of those parts are in stock. Always know exactly what parts are needed for a maintenance request quickly and easily.
To The Point
Know which parts are needed to complete a task with one glance.
Usage
You will use this feature a couple of time a week.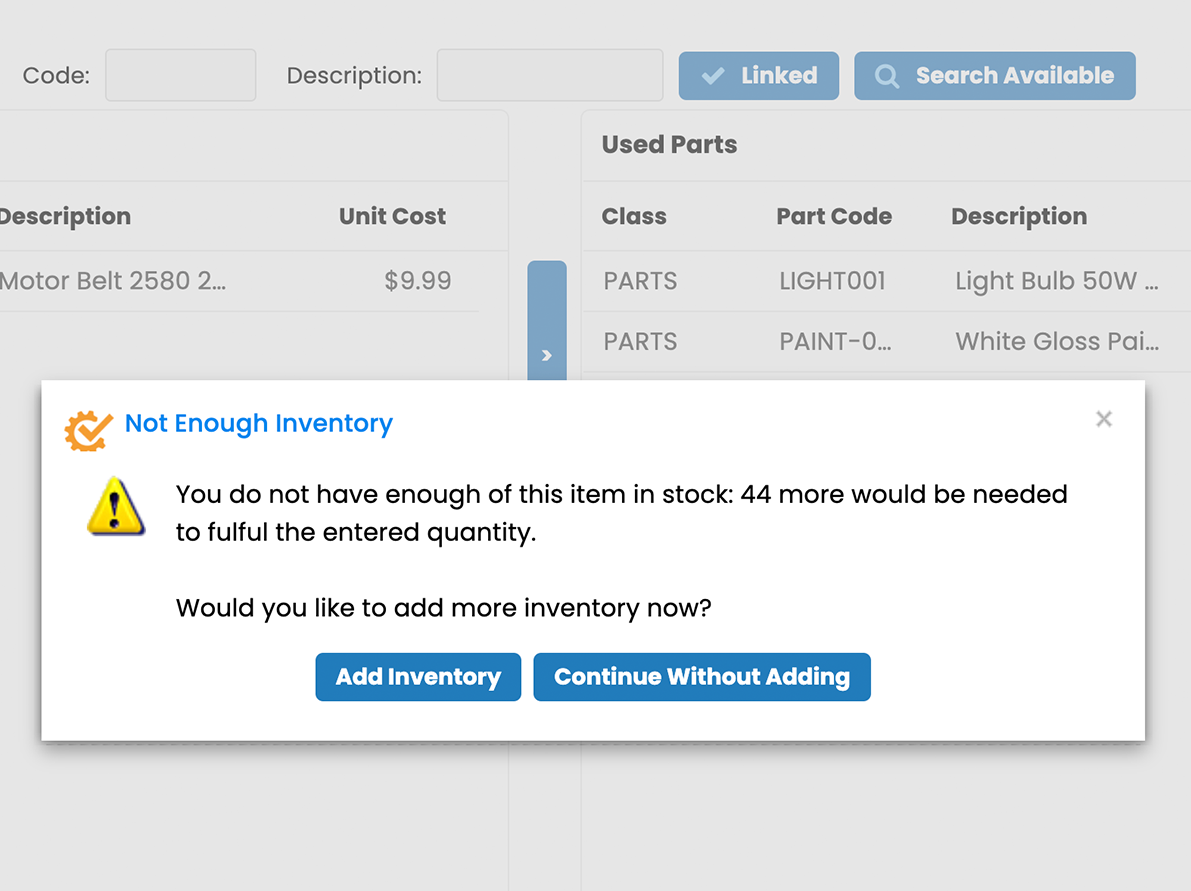 What Is It
Being alerted when stock falls below a certain level will help you make sure you never run out of an inventory item when you need it most. For example, when planning preventive maintenance, knowing that you will have the parts on hand before you actually get started, will help maximize your time and maintenance department efficiency.
To The Point
Maximize parts inventory efficiency with alerts when stock is low.
Usage
You will use this feature a couple of times a week.
4
HISTORICAL INVENTORY TRENDING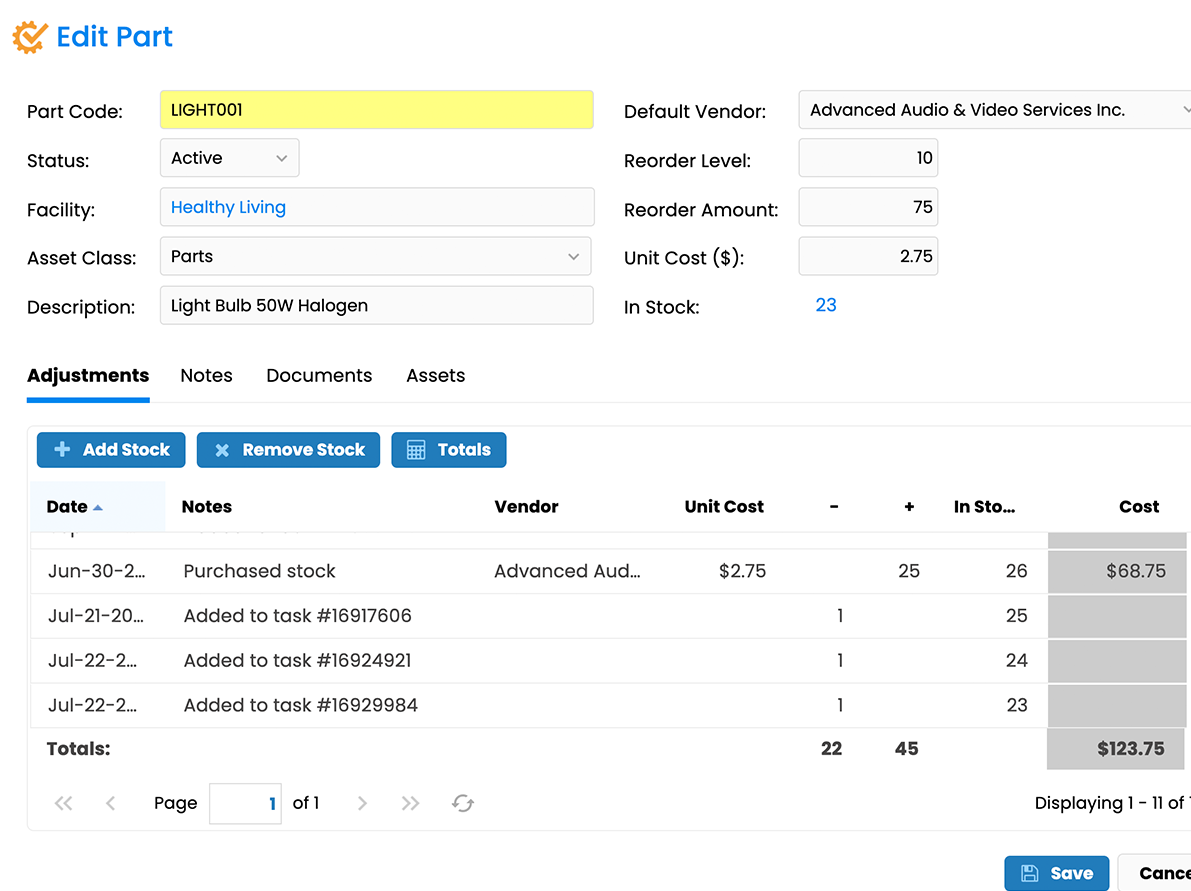 What Is It
Trend your inventory usage, zero in on missing stock, and find out exactly where items are being used. With this feature you can save money by analyzing historical trends of your inventory levels then buying in bulk when necessary, or keeping only the minimum needed of items that expire quickly.
To The Point
Save money by analyzing historical trends of your inventory.
Usage
You will use this feature once per month.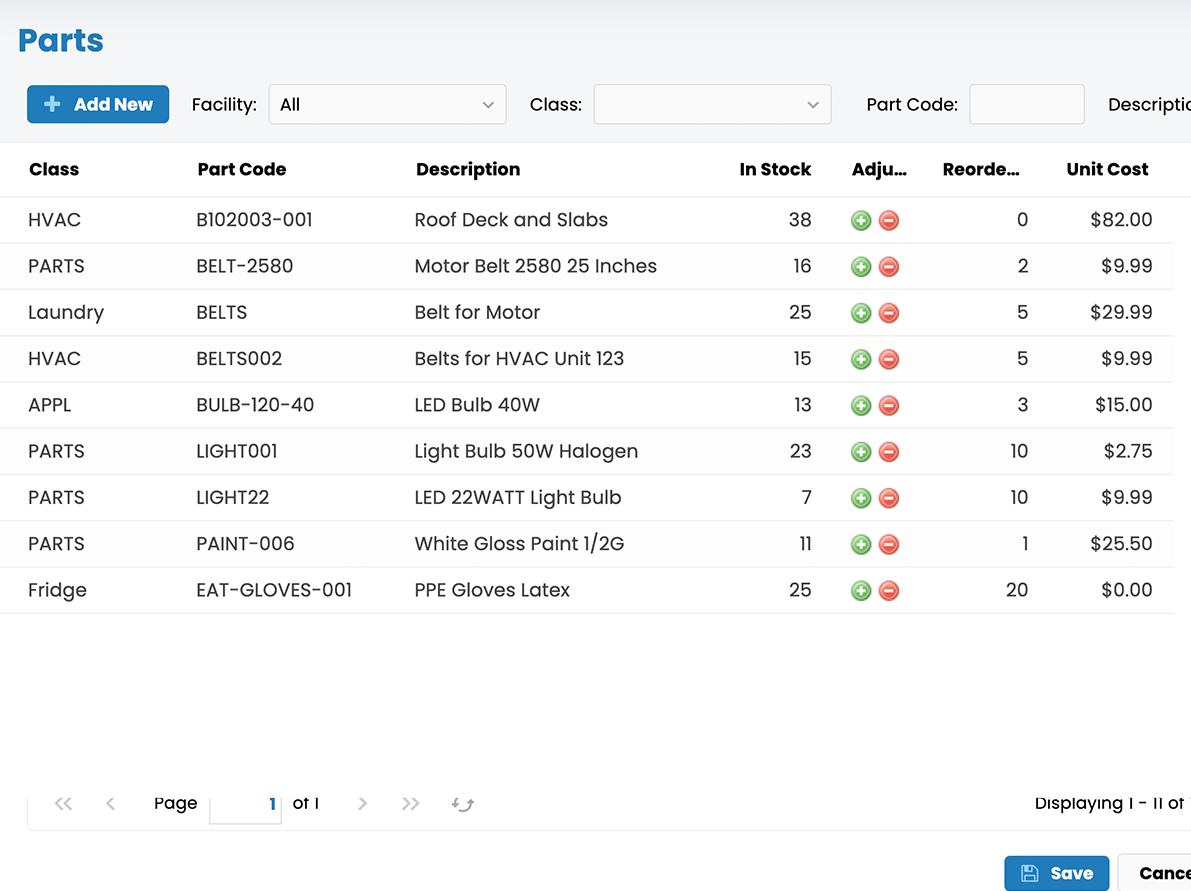 What Is It
Stop wasting money on your parts and inventory. Use the price tracking feature to keep detailed records of your initial purchase price, re-order prices and even average cost for each part, so you can make better decisions about when to buy, how much to buy and most importantly, which vendor to buy it from.
To The Point
Make more informed purchase decisions with detailed pricing information.
Usage
You will use this feature once per month.
BENEFITS OF A PARTS AND INVENTORY MANAGEMENT SYSTEM
We Are A Rock Star Team, Energetic And Full Of Enthusiasm, Dedicated To Making Sure Your Maintenance Management Software Experience Is Just Right.
Minimized Downtime
Downtime and work delays are a critical issue that costs you time and money. With the ability to keep track of all your spare parts from multiple locations, and get notified when stock is running low you can significantly reduce downtime spent waiting around for parts to arrive.
Efficient Team With a Parts Inventory System
Having an easy-to-use method of tracking inventory and linking it to individual assets means your maintenance team can work quicker and more efficiently. That means more productive hours and a faster asset recovery.
Huge Cost Savings
Spare parts for your assets are a huge cost to your facility. You can save money and improve your ROI with price tracking because you'll know when is the best time to buy, how much to buy, and which vendor to buy from to get the best possible price.
Informed Decisions and Supplier Management
With the all the information about historical spare parts and inventory orders, pricing trends, and more for each asset right at your fingertips you can make more informed decisions about when and from who to purchase your inventory.
One Of Our Largest Add-Ons Ever: Parts And Inventory Management Is Here!
Lately, we've seen a lot of users looking for best practices for spare parts inventory management so we decided to create one of our largest add-ons to our maintenance software ever: Parts and Inventory Management.
Tips For Keeping Your Spare Parts And Inventory Organized
Your spare parts inventory is an area of your facility that can quickly become disorganized and difficult to navigate. In order to run an efficient facility that's maintaining a high ROI, it's very important to stay on top of your spare parts inventory.
Find A Better Way To Manage Inventory With Asset Tracking Software
One of the biggest ways you may be losing money is by having overstock and inventory that is not only no longer used, but sitting around and taking up valuable stockroom space.
What's The Best Way To Keep Track Of Your Facility's Assets?
Did you say in a stuffed three-ring binder that you have to update every time something changes? Wrong. Did you say in a big Excel spreadsheet you've been managing for the past fifteen years? Also wrong.
You'll Love Maintenance Care Parts And Inventory Tracking
You asked for parts and inventory software to be added to our CMMS – and we delivered. Now you can easily track and manage all of your spare parts and other inventory from a single, user-friendly database. Your maintenance team will be more efficient because they won't be sitting around waiting for spare parts that were only re-ordered after they completely ran out. Plus, your facility will save money because you can track when the best times to order are, how much to order, and which vendor to order from for the best deal.