CMMS: KEEPING THE PEOPLE IN YOUR FACILITY SAFE AND HEALTHY
As a Facility Manager, you do your best every day to keep employees, visitors, guests, students, and the public safe and healthy. At Maintenance Care, we do our best to support you with our CMMS (Computerized Maintenance Management System) software. It helps you keep all the essentials systems in your facilities running and functioning seamlessly – so that doctors and nurses, developers and shift workers, grocery clerks and office heroes, housekeepers and landscapers can concentrate on giving their best and make things happen.
BEST CMMS FEATURES FOR HEALTH AND SAFETY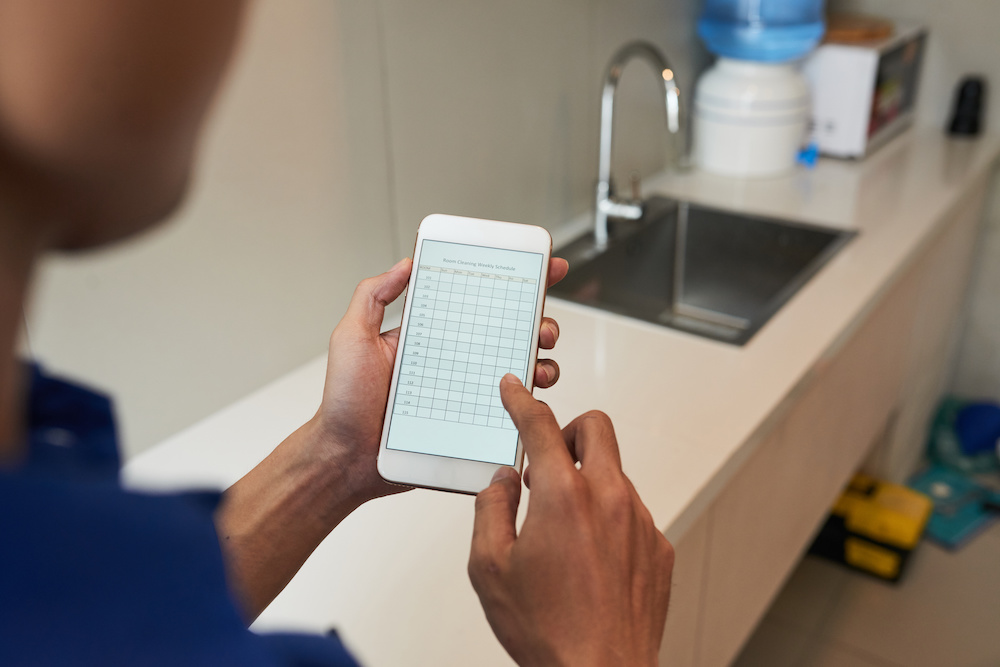 Ongoing Maintenance - It's Not Optional
A facility is only as good as its maintenance. Whether you're in hospitality or take care of a hospital, the last thing anyone needs is a bursting pipe or the ventilation system ceasing to work. In order to not let it get there, consistent and frequent maintenance is essential. If you have regulatory compliance requirements, regular, scheduled preventative maintenance tasks and inspections are critical. That's where a CMMS comes in. With maintenance management software for health and safety on board, you can schedule, track, and report on all of your ongoing maintenance activities.
The Importance of regular Maintenance
We've designed our CMMS to be as individual as your facility: whether you need to keep track of a storage inventory or want to assign a name to each individual tree in the parking lot, our customizable software can accommodate that.
Our clients use their software according to their specific needs and preferences. Here are some of the most popular features used across industries:
Scheduling Preventive Maintenance

Of Building Systems
Electrical, Hydro, HVAC, fire detectors, etc. What do all these things have in common? They are all systems in your facility that need regular, scheduled maintenance or inspections. The Preventative Maintenance Feature of our CMMS allows you to set and automate the creation of regular work orders for these tasks.
Remote Task Tracking
When it comes to health and safety, it's important that your facility manager or maintenance director is able to consistently monitor which tasks are being performed on a daily basis, by whom they are being performed, and if they are being performed on time and correctly. With our Mobile App you can track and monitor all work orders and tasks from anywhere.
Regulatory Compliance Reports
Have compliance requirements in your facility? Our Reporting and Documentation features will make it easier for you to generate the regulatory compliance reports you need, when you need them. Start by using the Preventative Maintenance feature to ensure the tasks are scheduled and completed on time in the first place.
Housekeeping

Tasks
Our newest upcoming Advanced Custom Fields feature DetSet (or Detailed Set of Questions) allows you to write and import your own sets of questions and fields for all tasks. Plus, you can attach those custom forms to a list of users, or a room. All of these means tracking and monitoring your housekeeping tasks like cleaning and sanitization will be simpler and more convenient.
Documentation
We all know how important documentation is to anything related to health and safety regulations and protocols. Maintenance Care's convenient Cloud Storage allows you to have a secure storage place for you documents and screenshots. Plus, you can upload images directly from you mobile device - so if there's an incident you won't have to worry about losing the pictures on your phone.
Use CMMS For COVID Prevention
A combination of nifty CMMS features and smart usage turned a management tool into what some users call their "COVID Prevention Software." They use it to track PPE and other life-saving items – like masks, sanitisers, and gloves. To many users, it provided peace of mind when more frequent ventilation and air quality checks were necessary to prevent the spread and offer a safe environment to patients, staff, and visitors in facilities across the country.
CMMS AND HEALTH & SAFETY: FAQS
Frequently Asked Questions About CMMS For Health And Safety
Here are some common questions we get about how a CMMS can help with your health and safety regulations and procedures:
Great question
!
There are two major ways in which CMMS can help with that: the first is
through
R
egulatory
C
ompliance
, the second is
through
its
c
ustom
ization
options
. Regulatory
C
ompliance includes reports and certifications mandated by the government or other regulatory bodies
to ensure that certain quality standards are met. CMMS is the easiest way to keep track of required maintenance and
helps Facility Managers document their progress. Cu
stom H&S measures include everything from housekeeping to remote progress tracking and depend on the specific facility
: CMMS simplifies paperwork, repairs, internal communication, and many
more.
Glad you asked. Yes, there definitely is
and we see it over and over
! We like to say that emergencies don't call ahead.
The best emergency is one that can be avoided. Obviously, that's not always in y
our control, but by keeping your facility well on maintenance schedule
and by
creating an emergency preparedness plan,
you can preempt
and
drastically minimize
many
negative e
ffects
.
CMMS helps with both, and it's incredibly useful in coordinating mitigation efforts when something unforeseen happens. It starts as simple as putting your emergency evacuation plan on CMMS storage cloud where everyone can easily find and access it, or clearly delineating a line of command and delegating tasks remotely. Of course, having a CMMS and an emergency preparedness plan are not a 100% guarantee, but it makes a HUGE difference in how severe the effects of an emergency will hit any given company or institution.
That's an important point. The av
erage fulltime employee spends 8 hours a (work) day in a work facility – whether it's an office, indust
rial plant, construction site, health care facility, hotel, etc., it's your responsibility as a
Facility Manager to provide them a safe environment in which to
perform
their jobs.
It starts with keeping your building intact and well taken care of: m
any of our clients love
the
Priority Setting option (Work Order Edition and higher) or
the
Preventive Maintenance Scheduling
and
Asset Bar Code Scanning
features
(
both
Enterprise Edition)
to keep track of their less frequent tasks.
Or
you can use our customizable CMMS features to submit service and repair task
s to reduce risk of injury and liabilities.
What's more: A couple hundred dollars a month or several thousand in repairs, lost revenue, and
wasted
work hours every time something breaks
?
Or worse, the costs (financial and potentially human) of a serious health and safety issue? You don't work 24/7, nor do you have a perfect memory, but a software does. You can trust a CMMS to always remember to assign preventative maintenance tasks when they come due.
PS: Our software also includes the "Sleeping Peacefully" feature😉.
PRINTABLE FACILITY HEALTH AND SAFETY POSTERS
Download Our Health And Safety Resource Posters For Your Facility
You can print off these workplace safety posters and hang them throughout your facility to remind employees of propert health and safety guidelines. Included are posters on basic workplace safety for facility managers, handwashing guidelines, glove safety, eye safety, and seven common workplace hazards to avoid.