Set up an effective workflow of managing incoming task requests with our work order management system.
Allow others to submit work orders directly to your maintenance team keeping everything moving smoothly. Our software gives you immediate access to an improved workflow. All of your data is sorted and managed so that supervisors and directors can run reports and make informed decisions in regards to time and money saving initiatives. Our software will help your entire process become more streamlined and allow you to gain considerable efficiency on a daily basis.
1
Work Order Request Form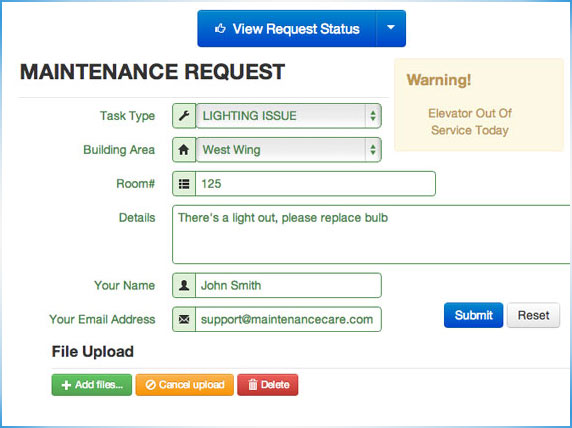 What Is It
Give access to submit maintenance requests easily through a customized web form. Enable your team to receive requests directly from others by using our work order software. Allow users to submit requests using desktop computers or alternatively using mobile tablets, kiosks or any web-enabled device.
To The Point
Others can communicate issues easily when needed and is available on the free work order software
Usage
You will use this feature every day.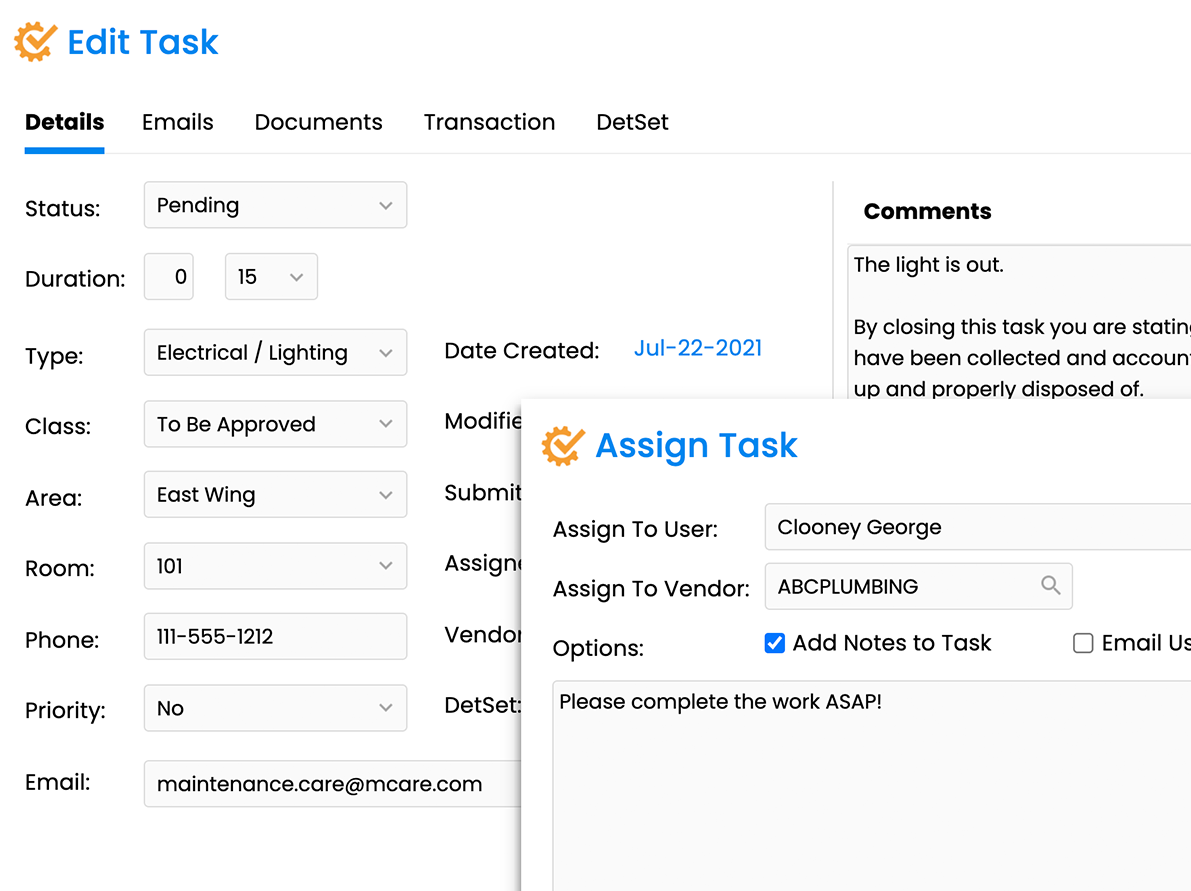 What Is It
Manage your work orders from one user-friendly dashboard. From scheduling to assigning users to labelling areas to adding comments and notes to attaching emails, documents, and more the work order management dashboard allows you to easily and efficiently manage all of your maintenance team's tasks. Plus you can access everything on the go from the mobile app.
To The Point
Working on-the-fly improves efficiency.
Usage
You will use this feature every day.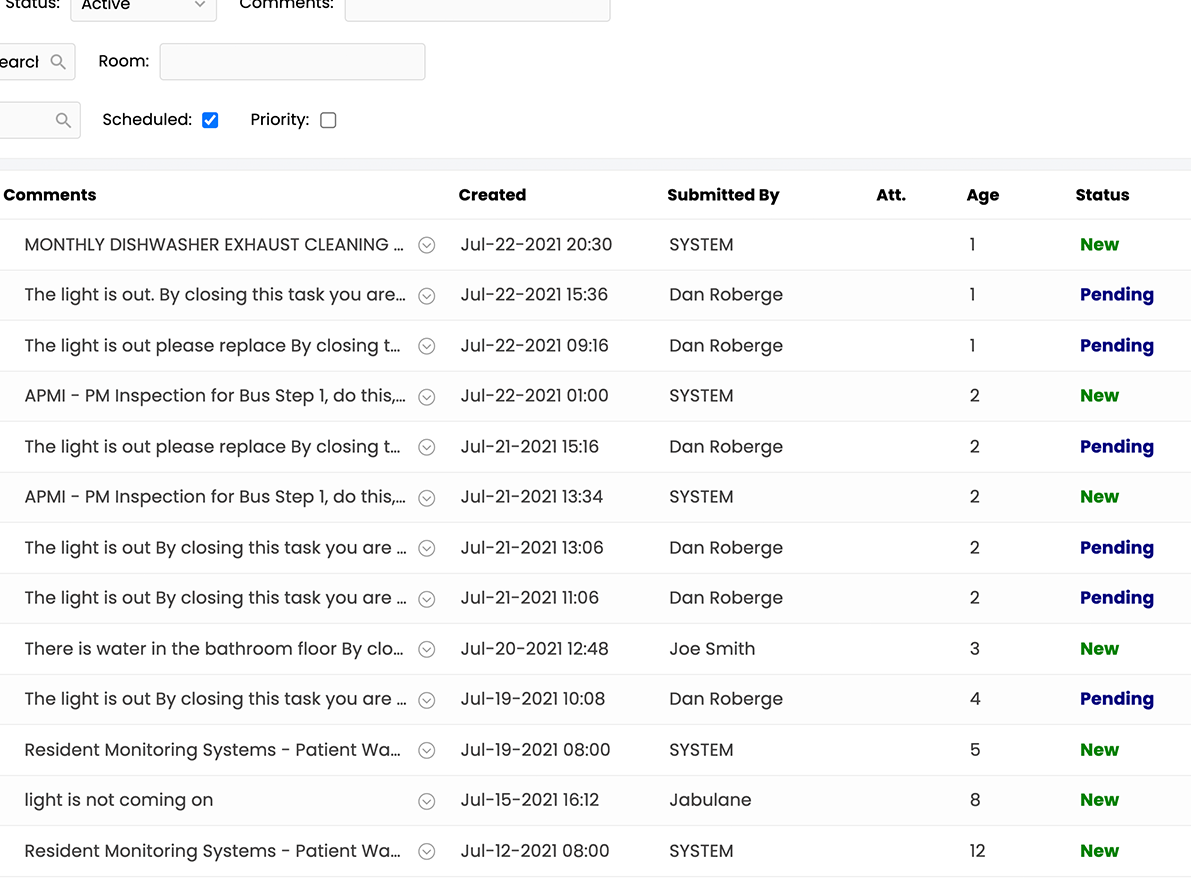 What Is It
Keep things easily accessible allowing you to manage your tasks conveniently. Available on the free work order software, your team can quickly access all of the information in one convenient, well displayed list. Quick sorting, column layout preferences, easy filtering or right clicking shortcuts are easily done for maximum efficiency.
To The Point
Central location for your tasks speeds up your day.
Usage
You will use this feature every day.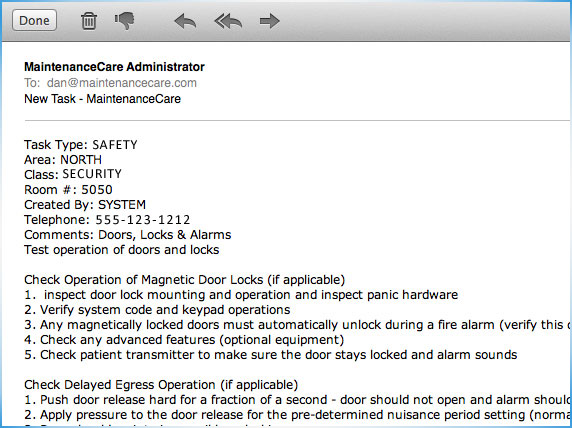 What Is It
Allow your team to automatically be notified of any new requests or preventive maintenance work that needs attention. A must for all good work order management software, emails and text messages can be delivered instantly to any mobile device allowing you to stay in direct contact with possible urgency issues or simply to better manage your day.
To The Point
Stay in the loop easily and at your convenience.
Usage
You can use this feature every day.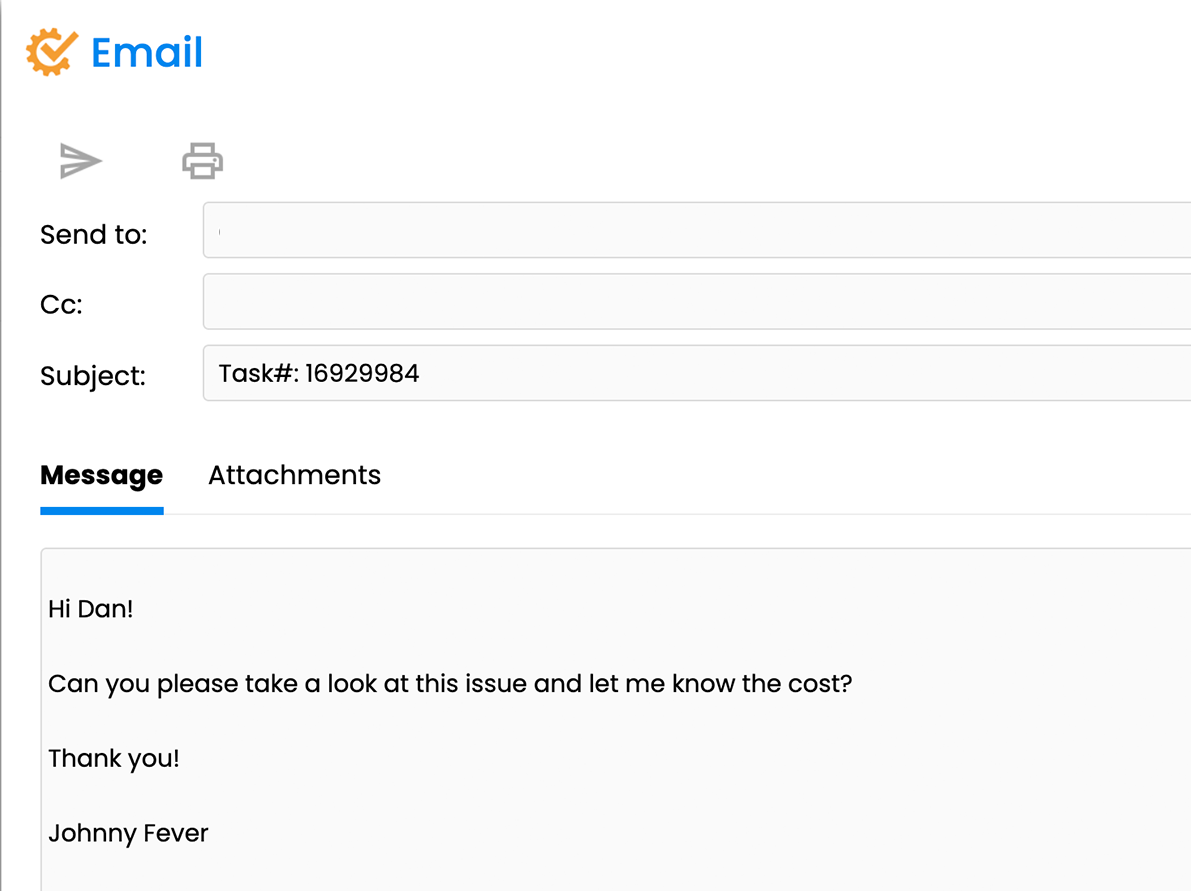 What Is It
Each Work Order task contains it's own story, and email communication with submitters, contractors, coworkers, and others is a major part of that conversation. With our email client you can compose, send, reply to, and forward emails as well as create contact lists and attach files. Plus, all email history is tied directly to the Work Order/Task, so keeping track of all communication associated with a request is now easy and efficient.
To The Point
A much more efficient method of completing and tracking communication around work orders.
Usage
You will use this feature every day.
6
SMART WORK ORDER DUPLICATION CHECKER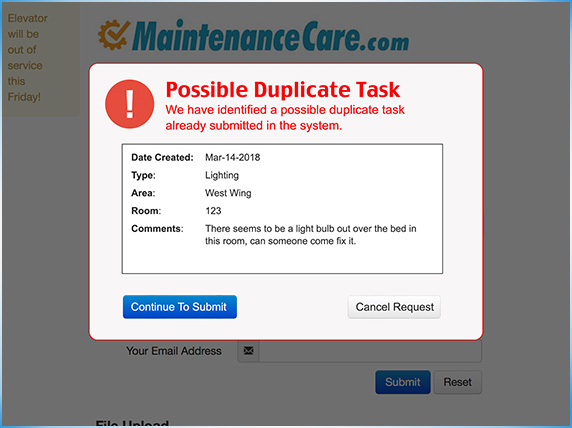 What Is It
Cut down on duplicate tasks and save time! Our Smart Duplication Checker will warn a submitter of a Work Order if their request is similar to another request already submitted. If a submission is similar to one recently made, a warning will pop up, giving the user the ability to review before cancelling or proceeding to submit.
To The Point
Save your maintenance team time and nerves by avoiding accidental duplicate requests.
Usage
You can use this feature every day.
BENEFITS OF FULL FEATURED WORK ORDER SOFTWARE
We Are A Rock Star Team, Energetic And Full Of Enthusiasm, Dedicated To Making Sure Your Maintenance Management Software Experience Is Just Right.
Preventive Maintenance
Plan your workload and improve building efficiencies automatically through sound scheduling. Review scheduling routines and make changes easily to minimize unproductive time.
Mobile App
The iMCare App allows your maintenance team to carry their task list with them all day long. Manage tasks, receive notifications and lookup assets all from your mobile device of choice.
Dashboard Reporting
Our beautifully designed dashboards provides you with a quick overview of all your systems. Modify and customized your dashboard to your liking and easily print any graphs for distribution.
Temperature Sensors
Using low cost wireless sensors, you can capture temperature readings for specific points of interests within your facility. Set minimum and maximum levels to ensure performance.
Manage Your Work Orders With Mobile CMMS
The ability to access and oversee documents via smartphone is essential for a maintenance department. Managing your documents strictly by PC is no longer efficient.
Prioritizing Work Orders And Tasks Is Easier With CMMS
As a maintenance manager, you know how everything is scheduled with the best intentions and then life, or work as it were, gets in the way.
The ABC's Of CMMS Work Order Implementation
According to recent statistics, almost 50% of a business' operational budget is taken up by maintenance. Here are four ways to make sure your team is on-board with using work order software.
The Benefits Of Using CMMS To Manage Work Orders You Can't Live Without
If you haven't audited the efficiency of your maintenance management processes in some time, you may be missing out on some great updates that have become industry-standard.
You'll Love Maintenance Care
We have been providing work order management software for over 14 years and the very foundation of the entire system was built on the work order process. So much so that most of the elements within maintenance care tie in to work orders in some way or another. Task management is what we know and our system will help you get organized. We are skilled at making your operations more efficient and will offer expert guidance on how to best benefit from our work order software so that you can't live without it!
Work Order Software is a feature tied directly into your CMMS that allows you to manage incoming task requests. A part of your CMMS management system, you'll be able to send and receive instant work orders and requests as well as streamline your daily maintenance activities. All documentation can then be stored in your CMMS for easy accessibility by the rest of the maintenance team.
Work Order Software offers a variety of different features to help your team succeed. Capabilities include instant online request forms, mobile work order management, maintenance lists, instant notifications and email capabilities. Maintenance Care's Work Order Software also includes a Duplicate Task Checker to ensure work orders only empty the system once.
Work Order capabilities are part of Maintenance Care's larger CMMS software. It sends and receives instant online work order requests that detail everything your team needs to know about a particular task. It also allows your team to receive instant notifications as well as discover which tasks have been completed and which are pending all in one convenient place.
Work Order Software will simplify your team's day to day activities. Employees will no longer be tied to a desktop computer and they won't have to rely on manual forms to complete tasks. Best of all, team members will be more productive when they don't have to waste time picking up, dropping off or cataloguing manual orders.
Because Work Order Software provides quick and easy access to all maintenance tasks – completed, pending, new and rejected - no task will go unnoticed. You'll also be able to track all information surrounding each work request with the ability to email clients and send and receive texts. Everything you need is in one easy to navigate location to improve efficiency, speed up your day and receive notifications on the fly.
Maintenance Care's Work Order Software is completely free. However, not all work order features are available with the free edition. To experience the full benefit of the software, we recommend trying our Work Order or Enterprise Editions. These editions give you a larger range of features to help you streamline and improve your maintenance department.
HERE'S WHAT FREE WORK ORDER SOFTWARE IS DOING FOR OUR USERS